Krupa & the Small Groups: A Lesson On Individuality and Swing
by Bruce Klauber
"What we do is provide entertainment, We use showmanship and we work for a good, free swinging feeling. We try to have a balanced repertoire and a good overall sound. We can play hard and we can play the pretty things, too. The point is we want to communicate and we want to please," -- GENE KRUPA, 1956.

The overwhelming majority of both jazz historians and laymen remember Gene Krupa as primarily, a big-band drummer. The critics are substantially correct in their observations that the late drummer's most innovative work was presented in that context; while fans of the era most fondly and vividly remember him with Benny Goodman and his own large orchestra. However, Gene Krupa's steady association with the big-bend ended in 1951, when economic reasons and the form's decline practically forced its demise. Krupa was among the last to throw in the towel. Some regrouped later (Basie), others worked only occasionally with all- star bands (Goodman), but Krupa decided to go the small-group route. It was with a trio or quartet that Krupa spent almost one- half of his career, until his death in 1973. Strangely, it's the period most often ignored and dismissed as lacking in musical substance.

Krupa's small group experience was extensive as a sideman, ranging from his Chicago Rhythm Gang associations with Eddie Condon, etc., to the well documented work with the Goodman trios and quartets. But it was not until 1945, shortly after the formation of his more modern "second band" (which utilized a large string section for a short time) that Krupa presented his own small group for the first time. Pianist Teddy Napoleon, a studio player in radio orchestras, and saxophonist Charlie Ventura, with Krupa since 1942 (save for a couple of months with Teddy Powell's band) were the members of the original Gene Krupa Jazz Trio. They reportedly cut their first sides, the classic "Dark Eyes" and "Body and Soul," after Krupa had been in the midst of an argument about pitch with his band of fiddles and members of the brass and reed sections. As the story goes, he sent the band home and recorded the trio so the booked studio time wouldn't be entirely wasted.

Critics have panned the group's concept in recent writings describing it as "turgid and unsubtle" and "seldom swinging."

Two contrasting facts are apparent; at the time the group met with wild approval from the crowd and journalists of the day. The only severe criticism has come in retrospect. These initial efforts, issued on Columbia's now out of print two record set Drummin' Man are amazing to listen to. It is not chamber jazz as in the Goodman' groups, or grounded in the then rising be-bop concept, Rather it is swing at its most basic, heavy and florid, laced with a humorous flavor that is totally infectious. Almost every note was worked out rhythmically, harmonically and climactically, which served to turn the solo spotlight on Krupa. The important thing is, the group swung in its own original way (without a bass) and is almost impossible not to enjoy. The group succeeded in its goal as being tremendous crowd-pleaser, the arrangement of "Dark Eyes" became a classic , and Charlie Ventura was on the road to stardom, soon to head his own groups and become one of the most popular jazzmen in the nation.

The trio within the band didn't last long. Ventura became a leader in his own right, and from what is known via commercially issued recordings and airshots, none of Krupa's other horn men (Charlie Kennedy and Buddy Wise) could step into Ventura's trio spot. When the big-band broke up in 1951, the haven for mainstream-oriented artists working as soloists Was Norm Granz' famed Jazz at the Philharmonic (JATP) troupe. Krupa spent much of the early and mid-fifties with JATP; leading a trio with a resident saxophonist and pianist most sympathetic with his style, usually Willie Smith or Benny Carter on sax and Hank Jones or Oscar Peterson on piano. In the off-season, through about 1952, he continued with a regrouping of the original trio, with Ventura and Napoleon.

The year 1951 is especially notable for Krupa as outside of JATP duties, the trio recorded its first album, and later traveled to Japan, where they were welcomed in a manner more befitting international heros. According to Ventura, they were greeted with flowers, gifts and celebrations. Their music was enthusiastically received.

On the recording front 2 years later, Granz, who recorded most of his JATP concerts on the spot and issued them on his Verve(first Norgran & Clef) label, released an album later known as "The Original Drum Battle", subtitled "The Gene Krupa Trio an JATP." This was a pick-up affair, with Willie Smith and Hank Jones, but it remains to this day one of the best recorded examples of a Krupa small group. The three swing consistently, with the drummer's playing a prime illustration of how to move a band without a bass. In reality, the group sounds much larger, abetted by Jones' strong chords and bass lines, and Krupa's steady(but not without accents), larger-than-life drumming. "Drum Boogie", which features Krupa's definitive solo on that tune, and the wild arrangement of "Idaho" are timeless.

The recording with Ventura and Napoleon, a 1951 ten-inch Lp entitled "The Gene Krupa Collates" was the first issued under the Krupa name for the Granz stable, where the drummer remained until 1964. It was also the last time the three would record together as a trio. Ventura had since modernized his style quite a bit, having just finished a sojourn with his immensely popular "Bop For The People" group, while Krupa did his bit to change with the times. The band suffered slightly for it, but the recording still provides a wealth of swing and entertainment. "St. Louis Blues" which begins at a drag tempo, goes throughout numerous changes until it's speed is increased by the conclusion. 'Fine's Idea"(based on the chords of "Blue Lou") is a standout. "Idea", in particular is a fascinating arrangement using some of the "Dark Eyes" round-robin" figures.
Ventura was in and out of the Krupa fold for years; it seems there was a place for him in the drummer's groups whenever he wanted it. But for the bulk of the 50's and 60's, Krupa used some other tenor players: Eddie Wasserman on "Gene Krupa at the London House", Woody Herman's Carmen Leggio(never recorded) and the most steady associate, Eddie Shu.

According to writer Leonard Feather and other observers, Shu led a weird career, from harmonica player-ventriloquist in Catskill resorts to jazz reedman, trumpeter and arranger.

The self-taught Shu recorded with Krupa quite a bit, Shu's style, in the Getz-Lestorian mode was not the most compatible for the drummer, Shu was responsible though, for somewhat lightening Krupa's method of drumming and lending a looser, more airy quality to the group. More importantly, Shu's battery of reeds, brass and harmonica gave the group the added color it needed. The arrangements tended to be less restrictive, giving all more of a chance to improvise.

Shu recorded prolifically with Krupa on the following albums: "Sing, Sing, Sing"(a trio with Napoleon), "Hey, Here's Gene Krupa"(quartet featuring pianist Dave McKenna) and "The Jazz Rhythms of Gene Krupa"(which served to introduce pianist-singer Bobby Scott).

In 1963, Ventura rejoined, and Krupa put together one of his best sounding groups, with John Bunch on bass and Knobby Totah on bass. A year later, the four recorded their first and last album together(also the last jazz album under Krupa's name) "The Great New Gene Krupa Quartet." Though critics were not entirely appreciative of the effort, even a casual listening to the sides reveals the sound, described as "magic" by one anonymous jazz historian, as one that is truly individual, The quartet achieved a deep, splashy, bright aura, due in part to the deep tones of the Krupa drums and judicious use of the swish cymbal.

Pianist John Bunch, whose varied and illustrious career included tenures with Maynard Ferguson, Tony Bennett(as conductor and musical director) and Benny Goodman, played with Krupa's quartet from 1961-1965. Bunch, one of the most consistently swinging players said he sometimes had to endure some not so subtle accusations from would-be hipsters, as to why he would play with a "cornball" like Krupa. One must realize, of course, that John Coltrane enjoyed his highest dgree of prominence at this time. However, Bunch had nothing but the highest accolades for Krupa the man and Krupa the player.

"He taught me music, the importance of variety in a program…the music was never boring." Says Bunch. "The man was very good to me and I learned a lot." In response to the finger-waggers' comments about Krupa's less-than-modern style of playing, Bunch said, "I loved the way he played behind me."

The quartet's repertoire which then included tunes like "Flyin' Home" , "Undecided" and Lester Young's "Tickle Toe" were all head arrangements, says Bunch, who was also responsible to a degree for teaching the various incoming tenor players and bassists the largely unwritten charts. Everyone who ever worked with him clearly had the highest regard for Krupa and the music. Pianist Bobby Scott has said "I loved the man…he was like a father to me."

The toll that bad health had taken on Krupa was evident on the "Great New Quartet" Lp, as well as infrequent appearances he made until his self-imposed retirement in 1967, and his return to concerts and clubs about a year later. Although the once wild solos were carefully constructed by the drummer to be less demanding, the time keeping, four and eight bar breaks and arrangements were as swinging as ever. In Krupa's much publicized return to playing in the late sixties, during a gig at New York's Plaza Hotel with Eddie Shu, Krupa went so far as to present a little avant-garde inspired chordless riffing on 'Caravan" and a couple other numbers (Shu, at this point, had been influenced by Coltrane and other modernists to a degree).

Though the parallel has never been drawn, when musicians are nearing the end of their career, they often revert back to a style they played in the earliest stages of their personal lives. Toward the end, Krupa was featured with Chicago Gang-influenced players, like Bob Wilber, Wild Bill Davison and Eddie Condon in a series of concerts at various schools and colleges. The last recording ever issued featuring Krupa was a 1975 venture on the Chiaroscuro label titled "Jazz At The New School." It is a seriously ill Krupa playing on this session(it has been recently revealed that he was suffering with Leukemia for some time), but it nevertheless is a performance full of fire and swing. John McDonough, in Downbeat magazine, gave it a rave review. Though the drummer had some trouble keeping up with the faster tempos, he provided the essential and incessant underpinning necessary for a group of this kind, and again more than makes up for lack of a bass. Pianist Dick Wellstood, long a Krupa cohort, helped things along with his heavier feel, but it is Krupa who was responsible for 99% of the inspiration and swing on these sides.

In the prologue to this piece, Krupa states what he had in mind for all his small bands - namely entertainment, swing, balance and the attitude of wanting to please and communicate. Anyone who either listened to any of the records by the Gene Krupa Trio or Quartet, or saw them in person at the Metropole, the London House, the Hong Kong Bar or the Steel Pier, could not help but realize that Gene Krupa fulfilled all of his intended goals, while simultaneously presenting music of the highest standard. The records bear listening to not only for historical reasons, but for the lessons that the playing of Gene Krupa can teach the modern drummer - how to please, how to swing and how to be an individual.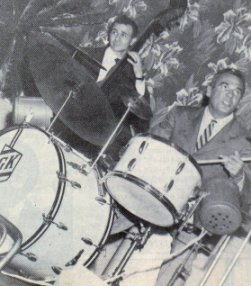 Reprinted with permission of Modern Drummer Magazine.